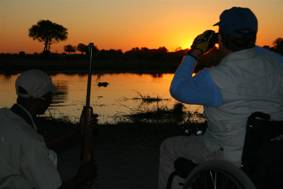 As I come across useful references to hunting and fishing, I will put them in, but they are not activities I am concentrating on for this website.
Colorado Parks and Wildlife information on Colorado's free fishing license for permanently disabled people.  This same link gives information about the free hunting license for disabled veterans and wildlife accommodation permits.

Here is a list of links to Maine businesses that claim to be handicapped accessible and which offer a wide variety of outdoor activities ranging from camping, guided fishing and hunting, skiing, boat tours and more.

See the Alaska page for Whaler's Cove

Craig Hospital hosts many outdoor adventures.  Call 303-789-8225 to learn about fishing at Rocky Mt. Arsenal Sept. 19, 2013.

The city of Pana IL is looking for a set of plans for a small ADA two station fixed fishing dock for their small park lagoon. 10 X 10 or 12 X10 approximate size.  Please contact them at panail@consolidated.net if you can help

Fishing Has No Boundaries   From their website: "(FHNB) is a non-profit 501-C3 organization whose goal is to open up the great outdoors for people with disabilities through the world of fishing. FHNB has grown into a National Organization with 27 chapters in 13 states, enabling thousands of individuals with disabilities to participate fully in this spirit lifting, morale booster, trouble free recreational activity. 

For the not so contemplative outdoor people: Big Bear Countree "Outdoor Excursions for the Disabled and Abled".