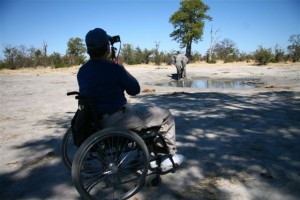 Please remember that I don't endorse any of the places or organizations I list.  I just collect and post them.  If any of you know reason why a link should be removed, please let me know, using the form in the sidebar.   If you have had a good experience or would like to share a resource or photograph,  I would welcome your input.
Accessible Journeys offers group tours in places such as Europe, South America and South Africa.

Adaptive Adventures sponsors all sorts of outdoor sports and activities, mostly in the midwest and Rocky Mountain states.   Their mission (from the website) "To provide progressive outdoor sports opportunities to improve quality of life for children, adults and veterans with physical disabilities and their families".

Bay Area Association of Disabled Sailors – "The Bay Area Association of Disabled Sailors (BAADS) seeks to make all aspects of sailing accessible. To fulfill this mission, we offer dinghy sailing every Saturday and keelboat sailing every Sunday out of South Beach Marina, adjacent to AT&T Park."

Colorado Discover Ability  in Grand Junction, Colorado, offers a variety of programs such as rafting, kayaking, skiing, snowboarding, and camping.

Disabled Photographers Guides  If you would be interested in hiring a professional photographer who would tailor a tour or workshop around your mobility issues, here are some that have expressed their willingness to accommodate a disabled photographer.    I would be happy to add to this list, if others wish to offer their services.
Bob Maynard  Colorado Plateau Photo Tours
email: bobmaynardphotography@comcast.net
Weldon Lee   Rocky Mountain Photo Adventures    email: wlee@RockyMountainPhotoAdventures.com
JP Bruce  Website  Photos on Flicker
email: JP Bruce <jp@jpbruce.com>
JP is mobility impaired and willing to offer advice and suggestions to other disabled photographers.

Ecuador For All  – From their website: "Galapagos, Amazon, Highlands and Coast tours are part of our accessible tours. Accessible accommodation, adapted transportation, trained staff and understanding of your needs combine with excellent product knowledge results in a memorable vacation for you."

Elder Treks has "small group adventures" for people over 50.  I have written them to see if they can accommodate disabled folk, but have had no reply.

Endeavour Safaris  is a tour operator based in Botswana, Namibia, South Africa, and Mozambique.  Endeavour Safaris is specialized in tourism for people with disabilities, senior travelers, their families and friends.

Epic Enabled conducts tours in South Africa and also Namibia, Botswana, Zimbabwe/Zambia (Vic Falls) and the rest of Africa.  "We offer scheduled tours, private & personalized itineraries to people with mobility, vision & hearing impairment."

Fika Safaris advertises as "…. the safari specialist for people with limited mobility.  Our specialized safari services will give (easier) access for the physically challenged holidaymakers traveling to Kenya and Tanzania."  They offer personalized and tailor-made safari and beach holidays.

Gatorland, Orlando, FL
© Cathy & Gordon Illg

Gatorland, Orlando is described by one reviewer at Trip Advisor as "very wheelchair friendly"  Thank you Cathy and Gordon Illg for the great photo.   Gatorland plans to have zip line starting in the fall of 2014 that will allow visitors with lower-body disabilities to glide over the alligators.

For the not so contemplative outdoor people: Big Bear Countree "Outdoor Excursions for the Disabled and Abled".

Here is a list of links to Maine businesses (sponsored by Maine's Lakes and Mountains Website) that claim to be handicapped accessible and which offer a wide variety of outdoor activities ranging from camping, guided fishing and hunting, skiing, boat tours and more.

National Sports Center for the Disabled in Winter Park, Colorado started out in 1970 giving children with amputations ski lessons.  It now offers a range of year-around sports and adventures for almost any disability you can think of.  Activities include "….alpine skiing, snowboarding, cross-country skiing, Nordic hut trips, snowshoeing and ski racing… indoor soccer and lacrosse as well as rock climbing and indoor kayak lessons… rafting, kayaking, canoeing, special camps, horse pack trips, therapeutic horseback riding, mountain biking, camping and rock climbing.  All programs are designed for individuals, families and groups and are available for all levels of ability, from beginner to advanced."

Outdoors For All is a Seattle-based nonprofit organization "providing year round instruction in outdoor recreation for people with physical, developmental, and sensory disabilities since 1979. Outdoors for All's year round programming includes snowboarding, snowshoeing, cross country and downhill skiing, cycling, hiking, river rafting, canoeing and kayaking, day camps, water skiing, rock-climbing, camping and Custom Events."

Even if you are not in the UK, do check out Pony Access  for great ideas and pictures of getting wheelchair users outdoors via ponies.

Senior Assisted Tours sounds interesting.  They have tours to India, Thailand & Cambodia, Singapore, Sri Lanka, Malaysia, and Hong Kong.  The website says they have special services for disabled travelers.

Ski For Light holds an annual week-long event in various parts of the US. "Ski for Light, Inc. is an all-volunteer, non-profit, organization founded in 1975. The mission of the organization is to teach blind, visually- and mobility-impaired adults the sport of classic cross-country skiing, to give participants who have already mastered the basics the chance to improve their skills and endurance, and to enable participants to just have fun on the snow."

Soldiers to Summits  is a program of No Barriers Soldiers, which is part of No Barriers USA.  They help veterans with a wide range of disabilities from PTSD and TBI to amputations.  "Our programs permanently impact lives by helping disabled members of all military branches tackle personal challenges. Mountains serve as both metaphor and training ground for stretching goals, building world-class teams, innovating through adversity and stepping up to lead and serve others…."

Wilderness Inquiry is a nonprofit organization with programs that "…provide opportunities for urban youth, families, and people with disabilities to discover and share the many benefits of outdoor experiences. "  They have programs throughout North America and elsewhere including New Zealand, Australia, South Africa, Kenya, Tanzania, Ecuador, Central America, the Caribbean, and Hawaii.
Back to top