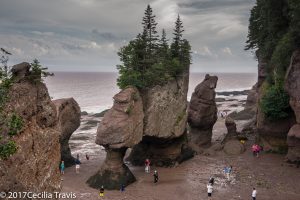 I haven't started research on Canada yet, but have been able to visit New Brunswick.   Please send me ideas of other places with easy and also wheelchair accessible trails in New Brunswick.  With your help, we can share our knowledge with disabled people everywhere and also increase awareness of the need for more accessibility. Please e-mail me with your suggestions using the form to the right.
Federal
Provincial
Local
Private
Miscellaneous
Federal
Roosevelt Campobello International Park is on Campobello Island, New Brunswick and can be accessed  via the FDR Memorial Bridge at Lubec, Maine.   In the summer you can get there by car ferry  L'Etete or St. Andrews, New Brunswick or Eastport, Maine (via Deer Island).
Here is their page on accessibility.
There are numerous trails and drives including the wheelchair accessible 0.3 mile Eagle Hill Bog boardwalk and the "flat and easy" Lower Duck Pond to Raccoon Beach trail.  A few others sound pretty easy too.
Back to top
Provincial
Lepreau Falls Provincial Park  45°10'09" North and 66°27'44" West.   My sister visited the park and says there are boardwalks to good viewing platforms for the falls.    Here is a video.  Lepreau is part of the newly formed Stonehammer Geopark.   To learn more about the geopark, call 506-643-2300.  Reviews of Stonehammer on TripAdvisor.

Here is the description, taken from the website,  of the "Great Canadian Beaver Pond Voyage" wheelchair accessible trail in Mactaquac Provincial Park : "This interpretive, guided walk takes you through a pristine nature reserve with a chain of beaver ponds. Examine dams and lodges built by beavers and see for yourself the architectural abilities of these remarkable animals. Join in hands-on activities that will introduce you to a variety of wetland wonders found in the Acadian forest. Gentle, wheelchair-accessible trails allow for people of all ages and abilities to enjoy this experience. The tour begins at the Park Administration Building, across from the main entrance to the park. "   Call 506-363-4747 for information.

Mount Carleton Provincial Park has a 0.3 km wheelchair accessible trail to Williams Falls.  Map and description.
Back to top
Local
Snow starting to fall on the Gibson Trail

Fredericton
Trail Visitor Center
Guides to trails — City of Fredericton     The Fredericton Trails Coalition

Paperback:  Trails of Fredericton by Bill Thorpe, Goose Lane Editions, 1999;   New/Nouveau Brunswick Backroad Mapbook   by Backroad Mapbooks

The Gibson Trail  is a 5.3 km flat, crusher fines-surfaced trail that "travels through urban and rural settings with secluded woodland and scenic views of the Nashwaak River."

Late autumn color, Gibson Trail

Bicyclist at upper Odell Park

Odell Park   Some of the 16 km of trails in the forested park are accessible or at least easy walking.  We walked east from Montgomery and Smythe by the water tanks, GPS:  N45° 56.974′   W66° 39.843′.  This part is level and wheelchair accessible but then intersects the still easy, but steep, Main Woods Trail, which might be challenging in a wheelchair.  On foot, we turned down hill till we came to path on the right to come back up and complete our loop.    From the website: "The trail near the main entrance has a smooth and level crusher dust surface which makes it easily accessible to all users. As you head up into the wooded areas, the trail becomes steeper in grade and is a more difficult climb. "

Sackville Waterfowl Park

Sackville

The Waterfowl Park at Sackville is a beautiful wetland with extensive boardwalks.  In places, the start of the boardwalk is several inches above the path.

Boardwalk at Sackville Waterfowl Park

Boardwalk at Sackville Waterfowl Park

View to boardwalk at Sackville Waterfowl Park
Back to top
Private
Miscellaneous