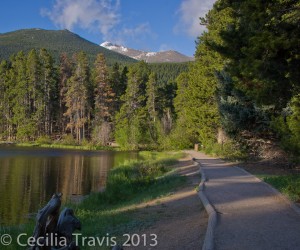 Colorado has a number of trails with minimal obstacles in natural areas.  Some are very easy and others are wheelchair accessible.  Here are a few of them.
Most of the links given were found through Internet search. Some places I have been able to visit and a few have been recommended to me by other people who have been there. With your help, we can share our knowledge with disabled people everywhere and also increase awareness of the need for more accessibility. Please e-mail me with your suggestions using the form in the sidebar.
Federal
State
Local
Private
Miscellaneous
Federal
Back to top
State
There are about 42 State Parks in Colorado.  Admission for a day is $7 per vehicle or $70 a year ($60 for seniors).  There is no charge for vehicles bearing a disabled veteran's plate.  Disabled visitors may apply for a yearly $14 Columbine Pass, which can be transferred between cars.
Back to top
Local
Back to top
Private
Back to top
Miscellaneous
Back to top