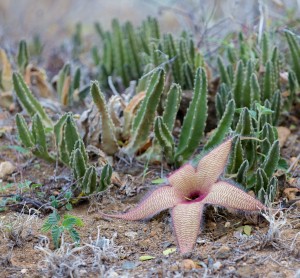 Hawaii has a number of trails with minimal obstacles.  Some are very easy and others are wheelchair accessible.  Here are just a few of them.
Most of the links given were found through Internet search. Some places I have been able to visit and a few have been recommended to me by other people who have been there. With your help, we can share our knowledge with disabled people everywhere and also increase awareness of the need for more accessibility. Please e-mail me with your suggestions using the form in the sidebar.
Federal
State
Local
Private
Miscellaneous
Federal
Haleakala National Park – From the Accessibility page of the website:

"In the summit area the following facilities are wheelchair accessible: Park Headquarters Visitor Center, Haleakalā Visitor Center, and Hosmer Grove picnic area. Accessible restrooms are located at Haleakalā Visitor Center, Kalahaku Overlook, Park Headquarters Visitor Center, and Hosmer Grove. Accessible water fountains can be found at Park Headquarters Visitor Center, and Haleakalā Visitor Center. The summit building is accessible, with assistance, via a steep ramp. Park trails are currently unpaved and not suitable for wheelchair use. For the hearing-impaired, a script is available for a backcountry slide orientation program at Park Headquarters Visitor Center and Haleakalā Visitor Center.

In the Kīpahulu area, there are accessible parking spaces and restrooms near the visitor center. The only paved portion of trail leads to the visitor center. At this time the trails leading to the pools and the forest are muddy, steep, and rocky. Access beyond the paved trail is difficult for wheelchairs or for persons requiring assistance."

Hawai'i Volcanoes National Park – From the Accessibility page of the park's website: "The Kīlauea Visitor Center, Jaggar Museum, Volcano House and Volcano Art Center are wheelchair accessible.  Pullouts along Crater Rim Drive and Chain of Craters Road afford panoramic views of the park.  Accessible pathways include Waldron Ledge (Earthquake Trail), Devastation Trail, Pauahi Crater, Muliwai a Pele, and Kealakomo Overlook."

See the Accessibility page for more information on campsites and restrooms.

The Jaggar Museum and its observation deck, overlooking the Halema'uma'u Crater on Kilauea Volcano are wheelchair and stroller accessible.

Kealia Pond National Wildlife Refuge Maui  Call 808-875-1582 to find out about accessibility of these trails. 
  Kanuimanu Ponds Trail  0.8 mile  From Oh Ranger , "This trail provides the best wildlife viewing and photography access at the refuge. Visitors hike along the perimeter of refuge ponds to view one of the largest concentrations of endangered water birds, migratory waterfowl and shorebirds in Hawaii. "
Kealia Coastal Boardwalk is a "2,200-foot boardwalk and kiosk with self-guided interpretive exhibits…"
Back to top
State
Local
Hanaumu Bay – © Julia Patriarche

Honolulu County – The City and County of Honolulu's website with information of accessible beaches and facilities.
Back to top
Private
Miscellaneous
Back to top